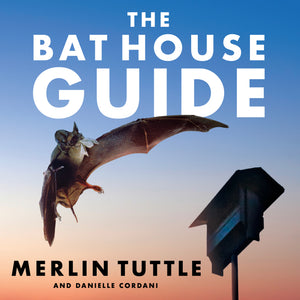 The Bat House Guide
Regular price $24.95 Sale
The Bat House Guide
 combines the wisdom of America's most experienced bat house pioneers and innovative builders worldwide. It is the definitive resource for bat house information. Coauthors
Dr. Merlin Tuttle
and
Danielle Cordani
share their findings from surveys of thousands of houses, explaining conflicting results and opinions, and suggesting areas for further experimentation. 
Guided by dazzling photographs, readers will not only discover bat houses from all over the world but learn how to construct and mount their very own. The book also includes builder's plans, key criteria for success, novel options, suggestions for experimentation, and frequently asked questions. And if you achieve exceptional success, or even unexplained failure, let the authors hear from you at
MerlinTuttle.org
.
Most of all, enjoy your bats and share your experiences with friends and neighbors!
Length: 88 pages
Hardcover
Publisher: GreanLeaf Book Group Press
Publication date: November 8, 2022
Dimensions: 7 x 0.7 x 8.3 inches
About the Authors
Dr. Merlin Tuttle
has studied and photographed bats worldwide for more than sixty years. He founded and led Bat Conservation International (BCI) for nearly thirty years, then left BCI in 2009 and founded Merlin Tuttle's Bat Conservation (MTBC).
Dr. Tuttle has published his classic research on bats in leading journals, contributed five articles to National Geographic, and lectured at institutions of science, from Harvard and Princeton Universities to the Smithsonian and British Museums. He is recognized as the father of modern bat conservation and is credited with saving the now famous Congress Avenue Bridge bat colony in Austin, Texas from extermination.
His unique photography and communication first led to the global appreciation of bats as safe, invaluable, and even adorable and likable creatures. No one has better demonstrated the power of combining captivating photos with sound science to win friends instead of battles for bats. Nor has anyone better demonstrated how conservation can benefit humans. Tuttle's legendary photos and experience provide invaluable guidance and inspiration that must be preserved and shared for future generations.
Danielle Cordani
is the Conservation Projects Coordinator at Merlin Tuttle's Bat Conservation where she leads bat house and other research projects. She is a bat biologist specializing in ecology and behavior.